For over 50 years the Ricchi family has been working successfully in the world of road haulage, starting with the head of the family and continuing with the activity of the sons' individual companies, finally joining in what is at present the Ricchi family company: Ricchi International, boasting, therefore, of a long experience in the field of road haulage.

• The '50s
At the beginning of the Fifties the head of the family, Mr. Odoardo Ricchi, bought the first truck, an ALFA 900, with which he started the whole adventure, carrying out national transports for the great freighters of the time.

• The '60s
At the beginning of the Sixties the first son, Muzio, still a boy, was already very keen on transport and accompanied his father on his long drives.

• The '70s
In the first years of the Seventies, the individual companies of the Ricchi brothers were born. It marked the start of the first collaborations with Continental Italia, ending by covering the whole of Italy. These years also see the purchase of the first Scania truck, a Swedish product ahead of its time, that contributed to raising the output of the company.

At the end of the Seventies, the first international freights were carried out, mainly to Germany, France and Belgium, later to expand in the Eighties to the new markets of Spain and the United Kingdom. With the growth of the freight market, also the fleet grew and was renewed. The purchase of Scania trucks turned out to be a winning choice.

• The '90s
During the Nineties the national freight activity left ever more space to the international one. On the international market new competitors started to appear; competition became fierce and it was therefore fundamental to supply quick, efficient and fast services at competitive prices.
The advent of the new millennium brought about many changes. Now the activity was not only based on full haulage, but also on groupage activity starting to appear, also thanks to the collaboration with other companies. In these years, the collaboration and the image of the company towards the Continental group acquired strength.
The new generation of the Ricchi family, in the person of Marco Ricchi, brings new knowledge and ideas contributing to the development of the company, added to the essential experience gained through the years by his father and his uncles. The birth of Ricchi International represents the birth of the only Italian road haulage company at the service of the Continental AG group.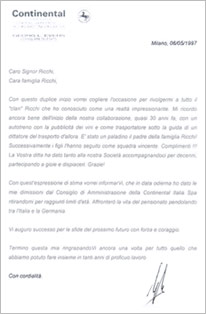 The thanks from Continental Italia CEO
for the collaboration lasting over 30 years,
with the best wishes for a brilliant future
in the service of the group.